how my color and lightening treatment protects and rebuilds hair.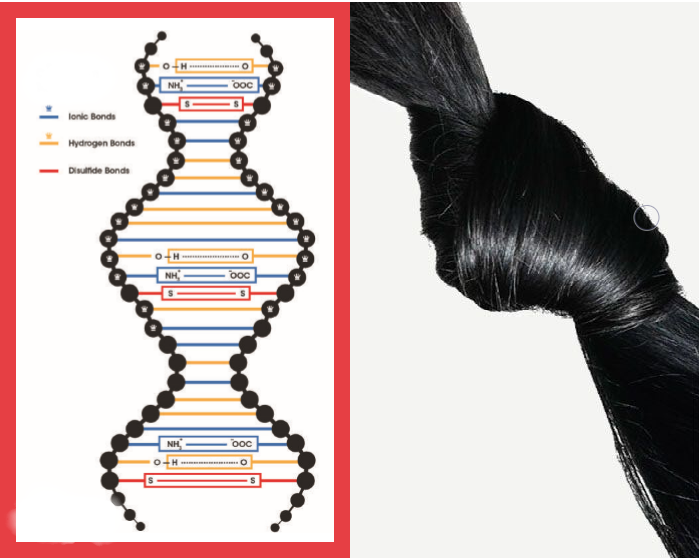 I use a new an organic based revolutionary bond restructuring protecting product that restructures and recreates broken bonds, it is able to create firm, virgin like bonds for a night-and-day transformation, all without any risk to the hair or the scalp, there is no buildup that is sometimes associated with lesser products. other products similar to this claim to build bonds and restructure hair- and many do. however, they do not build the same type of bonds, the same number of bonds, or the same quality of bond. More importantly, a key problem with many of these products out there is that they employ unnecessary, harmful chemicals to create artificial bonding effect that can leave buildup, which in turn diminishes the health and appearance of hair over time. the use of these artificial linking, patching, and bridging chemicals can limit treatment effectiveness. hair has and is made of of 3 bonds, the largest being the ionic and hydrogen bonds. disulfide bonds are approximately less than 10% of the total number of bonds in hair. our product uses key ingredients belonging to the classes of organic acid and amino acids. it is very effective in rebuilding the strength back to virgin-like or untreated states. the ability to recreate multiple types of firm, virgin-like bonds is the holy grail of restructuring, and this product does just this. it empowers the recreation of the natural bond structure throughout the fibers of the hair stands, pulling once distant and strained fibers together into a new, tight, strong, and smooth structure. using Nano biotechnology at the molecular level to make hair the best it can, without the use of harsh chemicals or oils that cause buildup. your hair looks and feels like it was transformed back to an earlier state- because it was. by putting this product in Lightner and color we are able to help the hair completely resist almost all damage while it rebuilds the strength and health of your hair all at once. This is a revolutionary product, that has removed the limits of other treatments ushering in a new era of hair treatment and creative possibilities. an era where I, as a hair stylist and colorist, can be more creative with less worry, and my clients can have the best hair possible. hair that is completely transformed with a look that will last longer than ever before.
WHAT MAKES THE DIFFERENCE WITH MY PROFESSIONAL Products?
The philosophy behind all my hair care and color product is to bring hair back to its natural state. From care and styling to hair color, my products go further to treat and condition hair. My Products secret? The right combination of natural ingredients and the latest innovations in hair care and hair color technology. Each and every single one of my hair care and hair color products make the most of the benefits of nature, and offer dedicated solutions for all hair types. Natural ingredients, such as milk and yogurt proteins and fruit extracts, enhance hair's natural beauty. My products are created with a solid commitment to protecting the environment , with reduced sulfates, parabens and sodium chloride. All packaging is made with recycled material or is 100% biodegradable.
My choice for permanent hair color, replaces harsh chemical with Natural and organic ingredients. the color has a conditioning and protective cosmetic base to maintain hair integrity and condition the hair shaft, while protecting scalp and hair during the hair color process. MY Color has a high percentage of concentrated, pure, stable high-quality pigments to guarantee long-lasting perfect grey coverage, brilliant intense tones, specific shade control and vibrant shiny color. This merger of the best of nature and cutting edge technology gives us superior results, while keeping the integrity of your guest's hair intact. SLS and Paraben free, with low ammonia content, my color is designed to make sure the health of the hair is not harmed in the course of processing.
The numerous long lasting shades offered through my color line are available in demi, semi, and permanent formulas. Each one promises high color stability, superior quality, and an unmatched level of purity. my clients hair color is always shiny, manageable, and super soft; all with beautifully intense tones. my color additionally offers the best in gray coverage.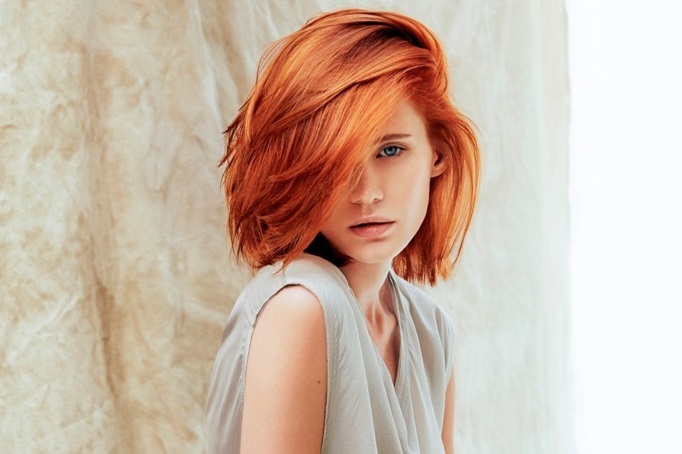 I choose a semi permanent color line that uses organic and natural ingredients in replace of harsh chemicals.
My conditioning semi permanent hair color is a delicate ammonia-free color that leaves hair shiny and rich in pigments. hiding first gray hairs, and for making existing color uniform or refreshed. My semi permanent color has a conditioning base with milk protein integrates to condition hair, honey and beeswax with a treating action that increases hair shine and manageability, and fruit extracts to sooth and condition scalp and hair. Integrity 41®, a patented antioxidant complex, guarantees longer-lasting hair color. With a pleasant fruit, milk and honey fragrance.
Here are just a few of the many organic and natural ingredients and what they can do for your hair.
organic
honey with soothing and protective properties on scalp and a conditioning effect on the hair stem.
conditioning and hydrating agents for soft, easy to comb hair.
Organic sunflower oil has excellent protective and regenerating qualities, thanks to its composition reach in vitamin A, C and E. It makes hair soft and silky hair and ensures hydration and nourishment to the hair fibers, by protecting against the damages caused by ageing. This wonder ingredient also has emollient and smoothing properties.
Integrity 41* is a complex antioxidant which ensures the durability in time of the color. It protects and repairs natural and colored hair against UV radiations and harsh shampoos.
Organic sunflower oil has excellent protective and regenerating qualities, thanks to its composition reach in vitamin A, C and E. It makes hair soft and silky hair and ensures hydration and nourishment to the hair fibers, by protecting against the damages caused by ageing. This wonder ingredient also has emollient and smoothing properties.
Amino acid complex helps to reinforce hair making it more elastic, easy to comb and to style. It protects against the damages caused by ageing, prevents hair from breaking, reduces frizzy hair and electrostatic effect and increases brightness of hair. containing a vegetal keratin based on 18 wheat and soybean amino acids and an antioxidant, that reinforces and protects hair while improving its appearance and structure.
Papaya, strawberry, blueberry and cocoa glycolic extracts have vitamin, emollient and antioxidant properties. They have an anti-inflammatory, revitalizing and soothing action.
Milk Protein provides your hair with a supplementing effect, while conditioning your hair. Milk protein is an integral ingredient in Milk Shake products. The results will give you an increase in volume, elasticity, and phenomenal damage repair; all while maintaining, protecting, and enhancing your hair color.
Bo's Hair Salon is proud to carry the complete line of milkshake Products. I searched all over for a products line which gave my clients incredible results yet held my dearest philosophy of keeping our planet and hair beautiful. Milkshakes entire line features shampoos, conditioners, and styling products which use Organic, Natural, sustainable ingredients that are packaged in recycled material and/or are 100% biodegradable bottles, Nature is our ally and we want to respect it. My products make the most of the benefits of nature to offer dedicated solutions for all hair types. Some of the natural and organic ingredients which make up the need specific line include: beeswax, hibiscus flower, chamomile, honey, jojoba, lychee, mango, apple, milk, maracuja, mint, murumuru, papaya, peach, rice, raspberry, shea butter, and sage to just name a few. milk_shake offer dedicated products with natural, vibrant results for all hair care and styling needs. From cleansing to styling, each hair care step has been carefully devised to provide visible results in both the appearance and health of the hair. The products have been created with an awareness of their environmental impact and a solid commitment to minimising such impact by reducing sulphates, parabens and sodium chloride in the product formulas which are all Cruelty free.